Quality System
We provide our experience in order to optimize or build up Your quality System in compliance with US and EU regulations. 
A Medical Device  Quality System is designed to assure that products are Safe and Effective for their Intended Use and Consistently meet the specifications as defined by results of clinical and/or detailed technical design and validation. Different regulation and guideline have to be considered for US or EU market:
 US: FDA 21 CFR 820 (Also known as the QSR), Guidance Documents
EU:
ISO 13485
, 
Essential Requirements, 
Harmonized Standards
FDA's Quality System Regulation Part 820 is harmonized with ISO 13485:2003, which is based on ISO 9001:2000. ISO 13485 contains requirements for medical device manufacturers in addition to the general quality system requirements found in ISO 9001. FDA harmonized their QSR with the ISO standards, because many other countries rely on ISO standards in regulating medical devices. Benefit:Agencies can more readily rely on one another's inspections and exchange inspection reports.
In QS Regulation, FDA has identified the essential elements that a quality system shall embody for
– design,
– production, and
– distribution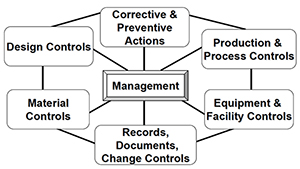 QS Regulation covers:
– Quality Management and Organization
– Device design
– Buildings
– Equipment
– Purchase and handling of components
– Production and process controls
– Packaging and labeling control
– Device evaluation
– Distribution
– Installation
– Complaint handling
– Servicing
– Records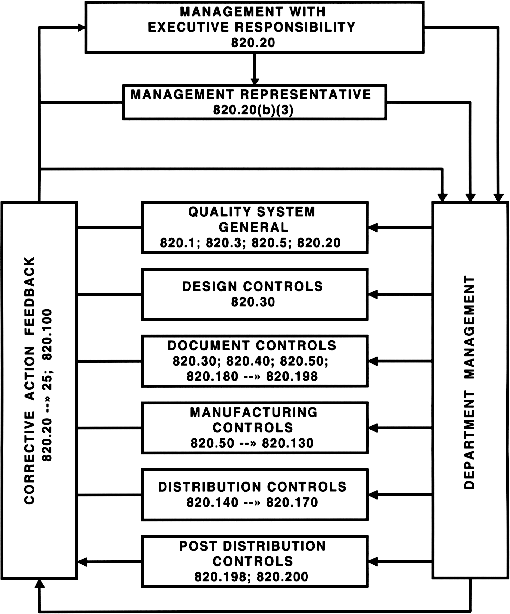 Other Important section from CFR 21:
•21 CFR 800-1050 (devices)
•21 CFR 820 Quality System Regulation (GMP—Good Manufacturing Process)
•21 CFR 807 (510K)
•21 CFR 812 (IDE—Investigational Device Exemption)
•21 CFR 814 (PMA—Premarket Approval)
•21 CFR 11   (ERES—Electronic Records and Electronic Signatures)
•21 CFR 50   (Informed Consent)
•21 CFR 56   (IRB—Institutional Review Boards)
•21 CFR 58   (GLP—Good Laboratory Practices
Record Documents for products and devices
•Device Master Record (DMR) (Recipe)
–Design Specifications
–Process Specifications
–QA Procedures
–Packaging Info Records
–Labeling Info
–Installation and Maintenance Info
•Device History Record (DHR) (As really Built)
–Date of Manufacture
–Quantity Manufactured
–Quantity Released for Distribution
–Acceptance (Test) Records
–Primary Labeling Information