Risk Management Process
To fullfill the requirements of international standard and ensure your company gets a safe, effective product to market on time and within budget, you need a successful implementation of your risk management system. We can assist and help Your Company do it in the right way.
In the medical device industry, risk management goes beyond development and manufacturing; it is a vital part of all your company's processes. ISO 14971 defines the international requirements of risk management systems for medical devices, defining best practices throughout the entire life cycle of a device.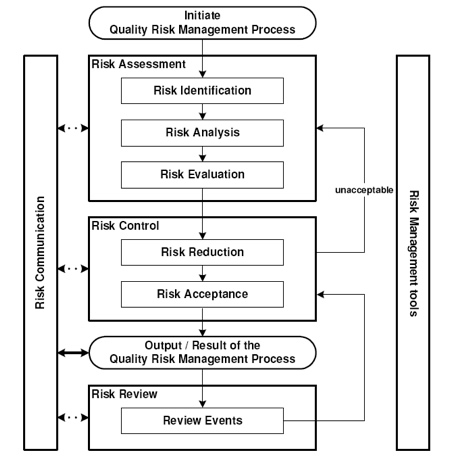 Overview of a typical quality risk management process (source: GMP annex 20)
The manufacturer, in the face of 93/42/EEC is required to perform a risk analysis in order to avoid or minimize the possibility of accidents.
ISO 14971:2007 specifies a process for a manufacturer to identify the hazards associated with medical devices, to estimate and evaluate the associated risks, to control these risks, and to monitor the effectiveness of the controls. Following some definitions important to undestand the risk managment process:
| | |
| --- | --- |
| Harm | Damage to health of recipient, including the damage that can occur from loss of product quality or availability (loss of tissue, damage for the donor) |
| Hazard | The potential source of harm |
| Risk assessment | contains risk identification, risk analysis and risk evaluation. |
| Risk analysis | The estimation of the risk associated with the identified hazards |
| Risk evaluation | The comparison of the estimated risk to given risk criteria, using a quantative or qualitative scale, to determine the significance of the risk |
| Risk control | contains risk reduction or risk acceptance |
| Risk review | contains an evaluation or review after a period of time to assess the measures taken and define if the identified risks are reduced effectiveley |
Important definitions for risk management process
The requirements of ISO 14971:2007 are applicable to all stages of the life-cycle of a medical device.
Risk management is the overall quality management process by which risks are identified, evaluated, controlled, monitored and reviewed. Risk can be estimated basing on the following:
Severity (Impact) = the degree of harm

Probability/occurrence/possibility = the likely rate of occurrence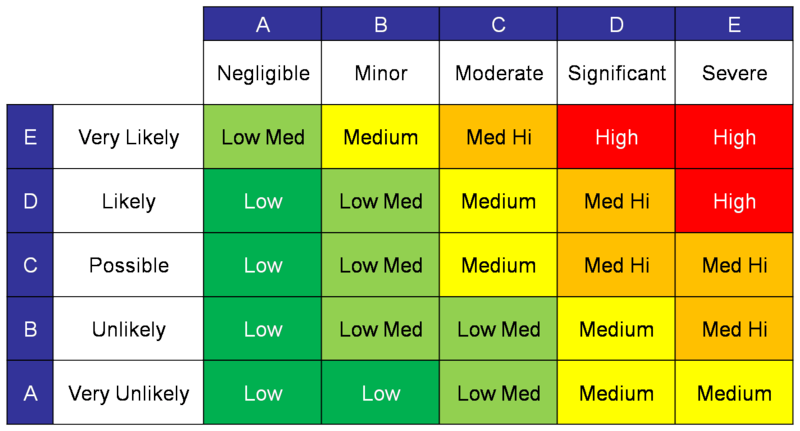 Risk = impact x probability 
The risk analysis is an important tool that allows you to optimize the design, considering the possible risks associated with a new product. Risk Analisys is a document that must be set in the earliest stages of project definition.
In this way it is possible to evaluate the appropriate countermeasures to reduce the risk.
The risk analysis must demonstrate that the risks have been assessed and has acted to reduce the impact.