We provide support in drafting and compiling all documentation required to prove a GMP and GAMP5 compliant development of machine for pharmaceutical, cosmetics and medical device industry.
From machine development phase (left side in the picture below) to installation, testing and validation phase (right side).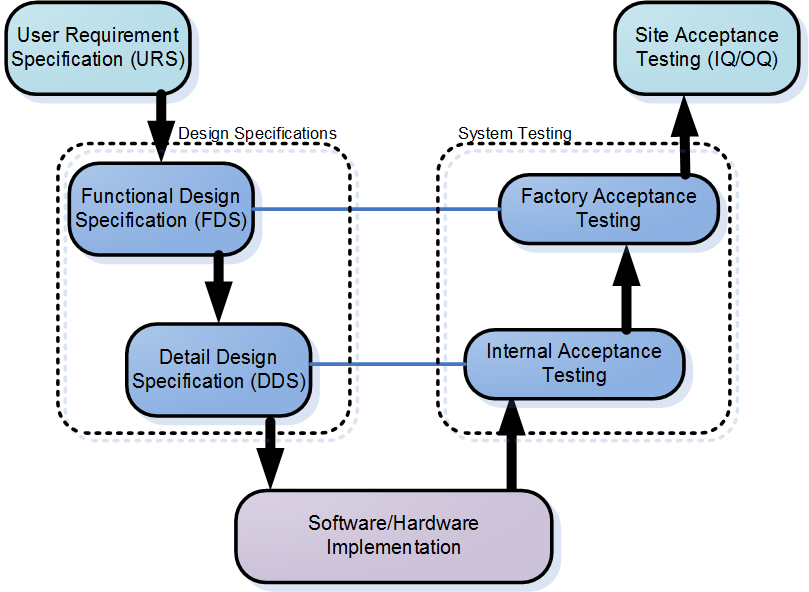 GAMP 5

(Good Automated Manufacturing Practice)

provides pragmatic and practical industry guidance to achieve compliant computerized systems fit for intended use in an efficient and effective manner.
We can help your company in creating the following GAMP5 compliant machine documentation:
URS (User Requirement Specification)
FDS (Functional Design Specification)
HDS (Hardware Design Specification)
SDS (Software Design Specification)
---
URS
User Requirement Specification (URS) is a technical reference document specially prepared for purchase of capital equipment within the manufacturing sector.
The specification is used to provide a list of requirements for new equipment and can also outline any associated commercial requirements within the scope of supply.
The User Requirements Specification highlights the needs of the end user as well as any regulatory requirements that surround the particular environment or industry. 
URS shall provide a clear list and description of all applicable client requirement to be fullfilled by the manufacturer of a machine equipment.
A comprehensive and well written URS is the base for the machine development process and will help clarifying the client need and aswell save time and resources during the development by setting clear goals.
---
FDS
The FDS Functional Design Specification is written on the base of URS document in order to describe how the design of the newly developed machine is going to fullfill the requirement of the client.
The FDS provides the basis of the design of the system and will be used aswell to verify and validate the system during the testing, ensuring all the required functions are present and that they operate correctly.
FDS should details all the functions, operator interactions control and sequencing associated with the system, thus allowing the user to confirm, before the system is developed that the proposed solution fully meets its requirements.
---
The HDS Hardware Design Specification is a document that provides an overall desciption of the hardware and implementation. It provides description of main components and interactions and aswell reuquirement for proper connection to utilities and installation.
---
SDS
The SDS Software Design Specification is a document that provides an overall desciption of the software, implementation,functions and interface with the users.